ST. BENEDICT: THE LEGACY OF THE HEART
When I look back on my life and ask the question, "When I die, how will I be remembered?" I hope it will be that I was one who tried to love God with all my heart, all my mind, all my strength, and my neighbor as myself. (Deuteronomy 6 and Matthew 22:37) Not that I have attained that pefection, but I do try to do so each day, based on Cistercian practices and charisms (humility and obedience to God's will) with silence, solitude, work (this blog), prayer, and community (the School of Love in this life). None of this would have happened without St. Benedict and his vision for moving from self to God. He created a Rule that Lay Cistercians follow according the statutes and intrepretation of the Cistercian Order (Trappist).
As a professed Lay Cistercian (final promises to Christ through the Abbot of Our Lady of the Holy Spirit Monastery, Conyers, Georgia (Trappist), my focus for the rest of my life is to seek God through Cistercian convenants and statues as they intrepret the Rule of St. Benedict. http://www.ben.edu/center-for-mission-and-identity/resources/rule-of-st-benedict.cfm
Today is the feast day of St. Benedict. We think about him today and ask his intercession on this special day of commoration as he stands before the Throne of the Lamb, to allow us to be what we pray and move ever closer to the heart of Christ. http://www.ewtn.com/library/MARY/SAINTROM.htm
Countless disciples of St, Benedict have used his approach to contemplation and listening to the word of God with the "ear of your heart," as he states in the Prologue to the Rule.
Read what the Franciscan Media webpage says about St. Benedict and list to the podcast.
https://www.franciscanmedia.org/saint-benedict/
Saint Benedict
Saint of the Day for July 11
(
c. 480

 – 

c. 547

)

Saint Benedict's Story

It is unfortunate that no contemporary biography was written of a man who has exercised the greatest influence on monasticism in the West. Benedict is well recognized in the later Dialogues of Saint Gregory, but these are sketches to illustrate miraculous elements of his career.

Benedict was born into a distinguished family in central Italy, studied at Rome, and early in life was drawn to monasticism. At first he became a hermit, leaving a depressing world—pagan armies on the march, the Church torn by schism, people suffering from war, morality at a low ebb.

He soon realized that he could not live a hidden life in a small town any better than in a large city, so he withdrew to a cave high in the mountains for three years. Some monks chose Benedict as their leader for a while, but found his strictness not to their taste. Still the shift from hermit to community life had begun for him. He had an idea of gathering various families of monks into one "Grand Monastery" to give them the benefit of unity, fraternity, and permanent worship in one house. Finally he began to build what was to become one of the most famous monasteries in the world—Monte Cassino, commanding three narrow valleys running toward the mountains north of Naples.

The Rule that gradually developed prescribed a life of liturgical prayer, study, manual labor, and living together in community under a common abbot. Benedictine asceticism is known for its moderation, and Benedictine charity has always shown concern for the people in the surrounding countryside. In the course of the Middle Ages, all monasticism in the West was gradually brought under the Rule of St. Benedict.

Today the Benedictine family is represented by two branches: the Benedictine Federation encompassing the men and women of the Order of St. Benedict, and the Cistercians, men and women of the Order of Cistercians of the Strict Observance.
---
Reflection
The Church has been blessed through Benedictine devotion to the liturgy, not only in its actual celebration with rich and proper ceremony in the great abbeys, but also through the scholarly studies of many of its members. Liturgy is sometimes confused with guitars or choirs, Latin or Bach. We should be grateful to those who both preserve and adapt the genuine tradition of worship in the Church.
---
Saint Benedict is the Patron Saint of:
Europe
Kidney Disease
Monks
Poisoning
Schoolchildren
+++++++++++++++++++++++++++++++++++++++++++++++++++++++++++++++++++++++++
As a Lay Cistercian, I am the living legacy of St. Benedict, grateful beneficiary of his preferring nothing to the love of Christ. You are the legacy of St. Benedict when you pray his Chapter 4 of the the Rule every day in the hopes of becoming what you read.
http://www.ben.edu/center-for-mission-and-identity/resources/rule-of-st-benedict.cfm#ch4
CHAPTER FOUR: The Instruments of Good Works
(1) In the first place to love the Lord God with the whole heart, the whole soul, the whole strength…
(2) Then, one's neighbor as one's self (cf Mt 22:37-39; Mk 12:30-31; Lk 10:27).
(3) Then, not to kill…
(4) Not to commit adultery…
(5) Not to steal…
(6) Not to covet (cf Rom 13:9).
(7) Not to bear false witness (cf Mt 19:18; Mk 10:19; Lk 18:20).
(8) To honor all men (cf 1 Pt 2:17). (9) And what one would not have done to himself, not to do to another (cf Tob 4:16; Mt 7:12; Lk 6:31).
(10) To deny one's self in order to follow Christ (cf Mt 16:24; Lk 9:23).
(11) To chastise the body (cf 1 Cor 9:27).
(12) Not to seek after pleasures.
(13) To love fasting.
(14) To relieve the poor.
(15) To clothe the naked…
(16) To visit the sick (cf Mt 25:36).
(17) To bury the dead.
(18) To help in trouble.
(19) To console the sorrowing.
(20) To hold one's self aloof from worldly ways.
(21) To prefer nothing to the love of Christ.
(22) Not to give way to anger.
(23) Not to foster a desire for revenge.
(24) Not to entertain deceit in the heart.
(25) Not to make a false peace.
(26) Not to forsake charity.
(27) Not to swear, lest perchance one swear falsely.
(28) To speak the truth with heart and tongue.
(29) Not to return evil for evil (cf 1 Thes 5:15; 1 Pt 3:9).
(30) To do no injury, yea, even patiently to bear the injury done us.
(31) To love one's enemies (cf Mt 5:44; Lk 6:27).
(32) Not to curse them that curse us, but rather to bless them.
(33) To bear persecution for justice sake (cf Mt 5:10).
(34) Not to be proud…
(35) Not to be given to wine (cf Ti 1:7; 1 Tm 3:3).
(36) Not to be a great eater.
(37) Not to be drowsy.
(38) Not to be slothful (cf Rom 12:11).
(39) Not to be a murmurer.
(40) Not to be a detractor.
(41) To put one's trust in God.
(42) To refer what good one sees in himself, not to self, but to God.
(43) But as to any evil in himself, let him be convinced that it is his own and charge it to himself.
(44) To fear the day of judgment.
(45) To be in dread of hell.
(46) To desire eternal life with all spiritual longing.
(47) To keep death before one's eyes daily.
(48) To keep a constant watch over the actions of our life.
(49) To hold as certain that God sees us everywhere.
(50) To dash at once against Christ the evil thoughts which rise in one's heart.
(51) And to disclose them to our spiritual father.
(52) To guard one's tongue against bad and wicked speech.
(53) Not to love much speaking.
(54) Not to speak useless words and such as provoke laughter.
(55) Not to love much or boisterous laughter.
(56) To listen willingly to holy reading.
(57) To apply one's self often to prayer.
(58) To confess one's past sins to God daily in prayer with sighs and tears, and to amend them for the future.
(59) Not to fulfil the desires of the flesh (cf Gal 5:16).
(60) To hate one's own will.
(61) To obey the commands of the Abbot in all things, even though he himself (which Heaven forbid) act otherwise, mindful of that precept of the Lord: "What they say, do ye; what they do, do ye not" (Mt 23:3).
(62) Not to desire to be called holy before one is; but to be holy first, that one may be truly so called.
(63) To fulfil daily the commandments of God by works.
(64) To love chastity.
(65) To hate no one.
(66) Not to be jealous; not to entertain envy.
(67) Not to love strife.
(68) Not to love pride.
(69) To honor the aged.
(70) To love the younger.
(71) To pray for one's enemies in the love of Christ.
(72) To make peace with an adversary before the setting of the sun.
(73) And never to despair of God's mercy.
Behold, these are the instruments of the spiritual art, which, if they have been applied without ceasing day and night and approved on judgment day, will merit for us from the Lord that reward which He hath promised: "The eye hath not seen, nor the ear heard, neither hath it entered into the heart of man, what things God hath prepared for them that love Him" (1 Cor 2:9). But the workshop in which we perform all these works with diligence is the enclosure of the monastery, and stability in the community.
The legacy of Christ are those who love others as He loved us. Benedict and Scholastica were two of the many examples we have of those who loved Christ. The legacy of St. Benedict is each of us who sit in silence and solitude on a park bench and wait for Christ to come by.
A CONTEMPLATIVE EXERCISE IN HONOR OF ST. BENEDICT
WAITING FOR THE MASTER
You are seated on a park bench in the dead of Winter. Jesus has told you He will be passing by the bench sometime soon. You seat yourself and look down the path, straining to see Christ as he comes around the bend of the trees. You don't know what he looks like, but you have an invitation to meet with him today, and all your senses are at their peak. You don't want to miss him.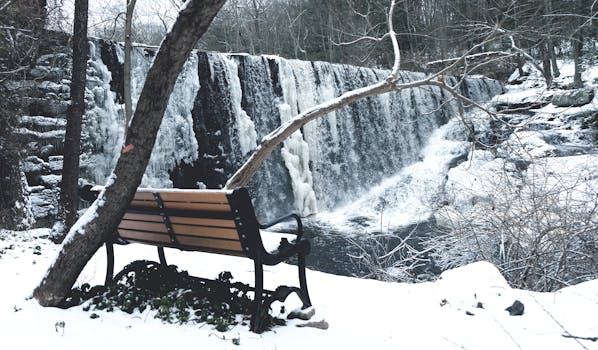 The first person to come to the trees is an old woman pushing a cart full of what looks like bottles and rags. You smile as she passes and wish her a good day. She turns back to you and asks if you have a bottle of water. She says she has not had water in two days. You only have half a bottle of water left, but you give it to her, asking her to excuse your germs. She trudges away, smiling.
You look up, and there is what looks like a teenager. He asks if he can sit on the bench with you. You do not know him and are reluctant to let him sit down but he has on only a thin T-shirt, and it is very cold outside. "Thanks," he says. He talks about how he is homeless, and the Shelter kicks them out at 7:00 a.m. and he has no place to go. Again, you look to the pathway straining to see if Christ is coming. No Christ. The teenager says he is twenty-seven years old Army Vet, out of a job, with no family and nowhere to go. You get out your cell phone and call the local Catholic Charities and speak to someone you know about helping the young man. You help out there once a month with packing food for the homeless, so you are familiar with their services. It happens that the City has a long-term shelter for people who need job skills and a safe place to stay until they get a job. You give him the directions to the shelter, about eight blocks away. He gives you a hug and trudges away.
It is going on two hours now, and no Jesus. A dog comes up to you, a Weimaraner, tail wagging, happy to see you. "Hey girl," you say. "Where is your Master?" She sits down and offers you one of her paws to shake. Friendly dog, you think, but who could be its owner? It is going on three hours now, and it seems to be getting colder. Just you and the dog are there, which you have named Michele. Just as you wonder once more if you have been stood up and inconvenienced, an older man approaches. He has a long, gray beard, somewhat matted together and uses a cane to help him wobble down the path. His clothes are neat but certainly well worn. His face has a gnarly look about him as if he had weathered many hardships and they had taken their toll. He asked if he could sit down since he was tired. You say, "Of course, I am just waiting for a friend to come by here." "You look cold," he says. "Here, take this scarf that my mother knit for me, it will keep you warm." The dog sits next to the man as if he was it's owner. All the while he kept stroking the dogs head and petting it on the head. "Oh, by  the way," the old man says "this is my dog. Thank you for finding it for me." Two more hours went by but you do not notice because the conversation is so warm and intimate. You tell the kind gentleman all about your trials and successes and how you just want to seek God wherever that might be and whoever it might be. The gentleman tells you that He has to go home to see his father, with whom he lives.  You think of how lucky the old man is to have such a loving Father and tell him you would like to meet his Father some day. The old man gets up and smiles at you. "You are a good person," he says, "and I look forward to seeing you again in the future," his face just beaming with kindness. Turing to his dog, he says, "Coming?" The dog jumps up and down a few times, wagging his tail fiercely and they both set off trudging slowly away from the bench. You look at your clock and see that five hours have passed, but passed so quickly. You are a bit disappointed that Christ did not stop by. You think maybe you got the time wrong and leave to go home. As you are going, you remember you have on you the scarf which the old man gave you as a gift, knit by his mother. You are shocked by what you see. On the scarf is embroidered your name in the gold thread. You think to yourself, he said his mother made it for him. Another thing you noticed. You felt your heart burning within you as the old man talked to you on the bench. "I wonder," you think, "…I wonder." The only prayer you can think of comes into your mind. Praise to the Father and the Son and the Holy Spirit, now and forever. The God who is, who was, and who is to come at the end of the ages. Amen and Amen.
 REFLECTION
Now, look at the photo of the park bench for a few minutes. Think about the story you just read while focused on the park bench. What thoughts does the Holy Spirit place in your mind? Write down what your heart tells you about the story you just read. How does this relate to where you are in your Lay Cistercian or another spiritual journey?
St. Benedict and St. Scholastica are the legacy of Christ. We are the legacy of St. Benedict and St. Scholastica. Just think of what you legacy will be if you have in you the mind of Christ Jesus.  That in all thing, God be glorified. –St. Benedict
uiodg